"They Have Brought Policemen From Abuja To Arrest My Supporters"- Obaseki Cries Out
Edo State Governor, Godwin Obaseki on Friday alleged that a billionaire in the opposition All Progressives Congress (APC) had brought policemen from Abuja into the state to harass and arrest his supporters.
The Governor made this allegation at the newly built hall in the Government House while playing host to the League of Imams in Edo State who paid a courtesy call to him after observing their eid prayers.
Obaseki said that the mastermind of the arrests of his supporters was also the brains behind their attack at the Oba of Benin's palace some few days ago.
He also alleged that the opposition thugs were breaking the windscreens of vehicles bearing his stickers. According to him, they were doing all that to intimidate him and make him take undue actions.
He, however, noted that as the Chief Security Officer of the state, he was not going to sit back and watch while the security situation of the state deteriorates. The Governor also promised that he would not use his powers to intimidate anyone as he believes in fair play.
The candidate of Peoples Democratic Party (PDP) for the September 19 gubernatorial election also said that the opposition elements were planning to unleash violence on the people so as to scare them from voting.
In his words, he said "Their strategy is to continue with propaganda and lies. Their plan is to intimidate people from getting to the polling booths.
"When they see my sticker on a car, they smash the screen of the car to provoke me."
He noted that if elections were to hold in the state today, the PDP will garner over 75% of total vote cast. He said it was this reality that is making the opposition to resort to violence.
The Governor also said that he was not afraid of anyone as he was aware of all the gang ups against him.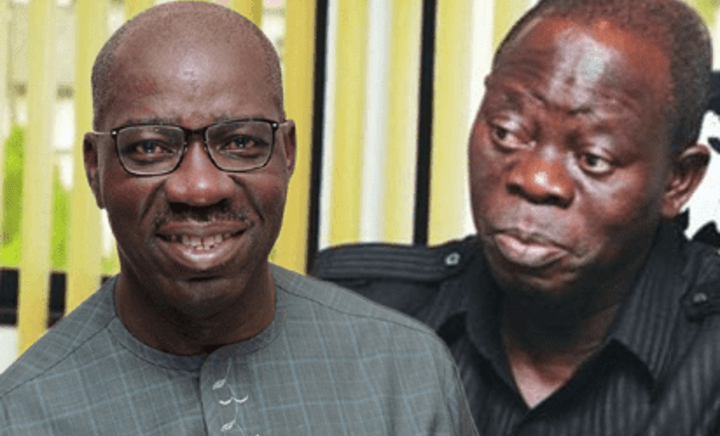 He also reeled out some of his plans for the next four years, noting that he had used his first term to lay solid foundation. He told the imams present that gone are the days when the state was ruled by touts and uncivilized people.
Speaking earlier, the Chief Imam of the State, Sheikh Abdulfatah Enabulele, showered encomiums on Godwin Obaseki for his performance in the last three and a half years. He also urged the Governor to be decisive and proactive as "there is no gentleman in politics."
Please follow and like us: